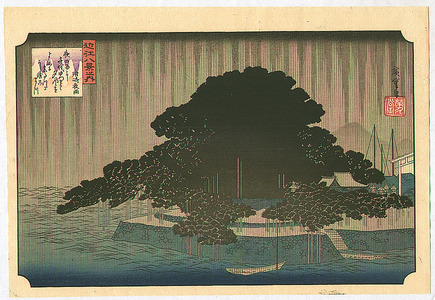 Artist: Utagawa Hiroshige
Title: Night Rain - Omi Hakkei no Uchi
Date: Originally ca. 1834, this is a re-carved edition in ca. 1920s.
Details & Prices: Utagawa Hiroshige: Night Rain - Omi Hakkei no Uchi - Artelino
Source: artelino - Japanese Prints
Browse all 24,756 prints...
Description: "Ohmi Hakkei no Uchi" (Eight Scenic Views of Ohmi) no.1 "Karasaki Ya-u" Evening rain is falling on the huge pine tree at Karasaki. This small and rare series is known as the finest landscape series by Hiroshige. The short poem on the square cartouche complements the serene poetic quality of his design beautifully. The translation from the reference book, "Elsewhere will they talk of the music of the evening breeze that has made the pine of Karasaki famous; the voice of the wind is not heard through the sound of the rain in the night.".