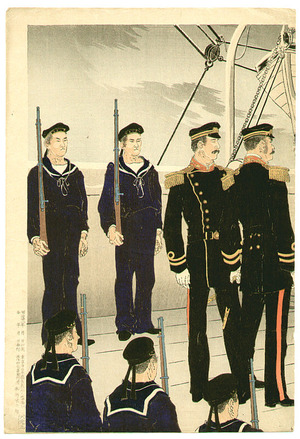 Artist: Migita Toshihide
Title: Admiral Ting Ju-chang and Admiral Ito
Date: 1895.
Details & Prices: Migita Toshihide: Admiral Ting Ju-chang and Admiral Ito - Artelino
Source: artelino - Japanese Prints
Browse all 24,756 prints...
Description:
"Ikaiei Kanraku; Hokuyo Kantai Teitoku Ting Kofuku no Zu". Japanese admiral Ito accepts the surrender of admiral Ting Ju-chang, the commander of the Chinese Peiyang Fleet. Admiral Ting was well respected by both Japanese and Chinese as one of the most able naval officers. He took the responsibility of the defeat and poisoned himself. When the ship carrying his body departed, Chinese as well as Japanese battle ships lowered their flags to honor the late admiral.