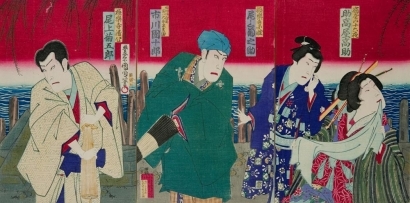 Artist: Toyohara Kunichika
Title: Poet, Beauty and Priest
Date: c.1878
Details: More information...
Source: Art Gallery of Greater Victoria
Browse all 994 prints...
Description:
Print depicts (from left to right) the poet Hakuren (Ichikawa Danjuro), assistant priest Gokurakuji (Onoe Kikunosuke), beauty Jurokuya of Ogiya (Sukedakaya Takasuke) and priest Seishin of Gokurakuji (Onoe Kikugoro). They appear to be on a beach with wooden pilings and the water behind them. The woman has a white piece of cloth, one end of which is in her mouth. Two figures have folded umbrellas.