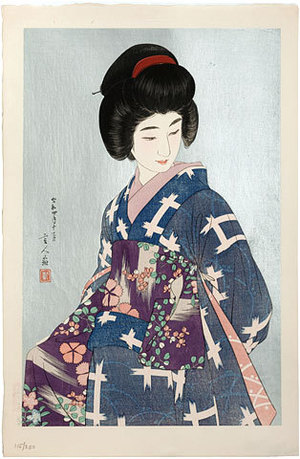 Artist: Torii Kotondo
Title: Sash (Obi)
Date: 1929
Details & Prices: More information...
Source: Scholten Japanese Art
Browse all 854 prints...
Description:
Dated and signed Showa yonen juichigatsu (Showa 4 [1929], 11th month) Kotondo ga, with artist's square seal Shi. The publisher's blue oval seal on the lower left margin, Kawaguchi, (in katakana). The reverse with limited edition stamp in red ink and hand numbered in sumi ink, San-hyaku-goju mai kagiri zeppan, dai hyaku-jugo, go (350 limited edition, number 115).