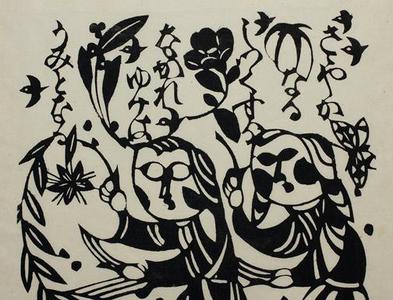 Artist: Watanabe Sadao
Title: Little Things
Date: Circa 1985
Details & Prices: More information...
Source: Robyn Buntin of Honolulu
Browse all 4,310 prints...
Description:
Signed in pencil and sealed on lower margin. Using the medium of katazome or stencil painting, the artist designs images drawn from his knowledge of the Old and New Testaments. Here, he illustrates a Hymn entitled Little Things: Little drops of water, little grains of sand, Make the mighty ocean, and the beauteous land. And the little moments, humble though they be, Make the mighty ages of eternity. So our little errors lead the soul away, From the paths of virtue, into sin to stray. Little deeds of kindness, little words of love, Make our earth an Eden, like the heaven above.