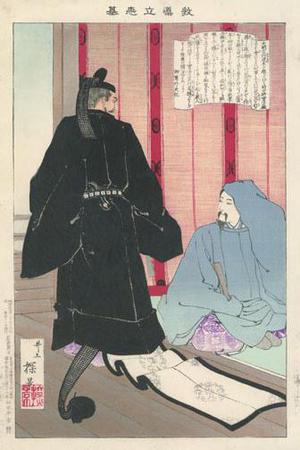 Artist: Inoue Yasuji
Title: Fujiwara Yukinari and Chujo Sanekata
Date: 1902
Details & Prices: More information...
Source: Robyn Buntin of Honolulu
Browse all 4,310 prints...
Description:
The famous Heian figures, the caligrapher Yujinari and the poet Sanekata, who supposedly fueded when Yukinari criticized Sanekata, from the series Foundations of Morality and Success designed by various artists and published by Matsuki Heikichi A gem of the series with detailed carving, wonderful urushi-e, and bokashi shading This series was originally published between 1886 and 1890 as newspaper supplements.