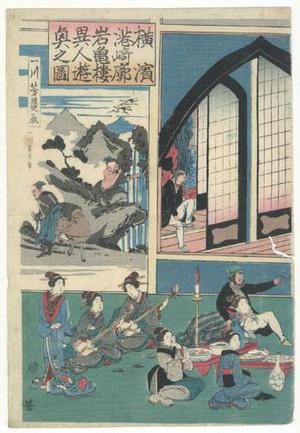 Artist: Utagawa Yoshikazu
Title: Yokohama Pleasure Quarters
Date: 1861
Details & Prices: More information...
Source: Robyn Buntin of Honolulu
Browse all 4,310 prints...
Description:
The two left panels of a triptych pictured and described in Yonemura, YOKOHAMA PRINTS, p. 148 The scene is the Gankiro establishment in the Miyozaki Pleasure Quarters of Meiji Yokohama. Sitting on the floor in Japanese style, several foreign men enjoy food, sake served from ceramic bottles, and the companionship of Japanese geisha. Two geisha play the samisen as one of the foreigners performs a dance.