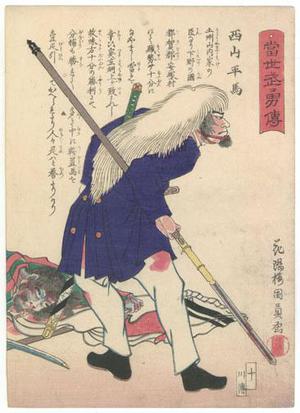 Artist: Utagawa Kunikazu
Title: Stories of Present Day Warriors
Date: 1868
Details & Prices: More information...
Source: Robyn Buntin of Honolulu
Browse all 4,310 prints...
Description:
The Boshin War was a civil war in Japan, fought from 1868 to 1869 between forces of the ruling Tokugawa Shogunate and those seeking to return political power to the imperial court. The forces loyal to the emperor succeeded in defeating the Shogunate armies and political power was restored to the imperial family. This print features Nishiyama Heima.