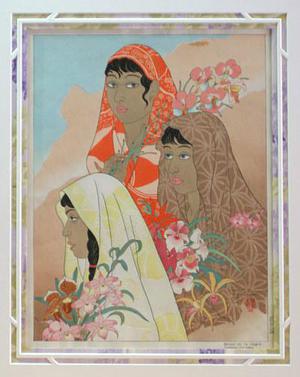 Artist: Paul Jacoulet
Title: Retour de la Jungle, Tondao: Celebes
Date: 1948
Details & Prices: More information...
Source: Robyn Buntin of Honolulu
Browse all 4,310 prints...
Description:
Signed with sparrow seal on lower right of print. Maeda/Fujii carver/printer seals on right margin. Numbered 61/350 verso. Elaborate gofun overprinting with substance containing ground seasehlls used for vivid yellow head covering on lower figure. Lip colors are mixed with a very fine coral powder to give an almost illuminated quality. This print was conceived as part of the Dedication Set, for General Douglas MacArthur. Jeanm MacArthur was one of the artist's most helpful post-war admirers, assembling a fine collection during the occupation. The artist experimented with images of multiple figures; this print is one of six prints showing three figures, and a critical favorite among his multi-figure compositions. Miles, THE PRINTS OF PAUL JACOULET. Framed with kimono silk and acid-free mat and UV-filtering plexiglas.