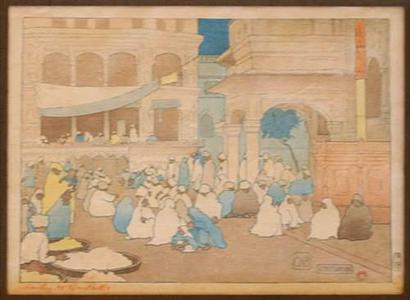 Artist: Charles Bartlett
Title: Amritsar 1916
Date: 1916
Details & Prices: More information...
Source: Robyn Buntin of Honolulu
Browse all 4,310 prints...
Description: Also called Evening Prayer Signed in red-brown pencil on lower left margin; monogram, title and date, and red copyright seal on lower right of print; Watanabe vertical cartouche and red series stamp on right margin. Comment taken from Barlett's sketchbook: In the courtyard of the Sikh Temple people gather for prayer and music. They resemble flowers in their gay silks.