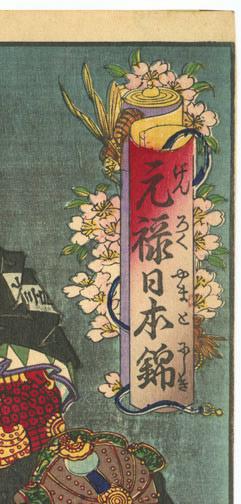 Artist: Kawanabe Kyosai
Title: From the 47 Ronin
Date: 1886
Details & Prices: More information...
Source: Robyn Buntin of Honolulu
Browse all 4,310 prints...
Description:
From the series entitled Genroku Yamato Nishiki. Each print of this series shows one or two heroic warriors from the 47 Ronin. Kneeling is Yato Yomoshichi Norikane and standing behind him is Chiba Saburohei Mitsutada. The colors are brilliant and there is oxidation to the blue background which may indicate a silver mica originally. Published by Takegawa Seikichi.