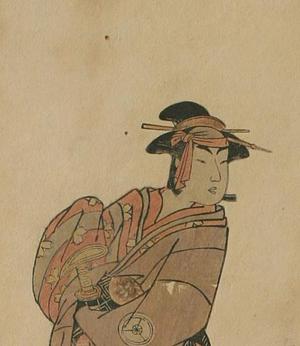 Artist: Katsukawa Shunsho
Title: Beauty with a sword
Date: Edo 1780's
Details & Prices: More information...
Source: Robyn Buntin of Honolulu
Browse all 4,310 prints...
Description:
Katsukawa Shunsho (1726-92) was a painter and print maker who lived in Edo. He studied with Katsukawa Shunsui and Sukoku. Very little is known about his personal life, but he is known to have been the teacher of some of the most important early ukiyoe artists. Hokusai was his student as well as Shundo, Shunei, Shunjo, Shunko and Shuzan. His subjects were mainly actors and bijin (beauties) such as this print. This print is slightly soiled with small tears at the corners and the impression is good.