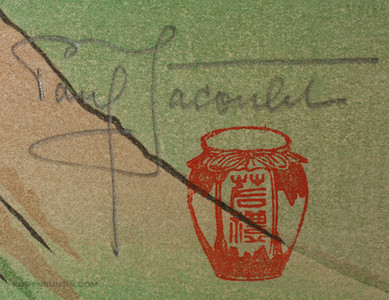 Artist: Paul Jacoulet
Title: Les Paradisiers. Menado, Celebes 98/350
Date: 1937
Details & Prices: More information...
Source: Robyn Buntin of Honolulu
Browse all 4,310 prints...
Description:
The Birds of Paradise. Menado, Celebes Stamped in back 98/350, printed on Jacoulet's personal watermarked paper. Comments by Richard Miles: This popular work was intended as a Christmas or New Year print. It incorporated an elaborate gauffrage in the feathers of the birds. The earliest impressions are paler, with a visible wood-grain that disappears in the very popular and bright final edition. The brilliant plumage of the birds of paradise was copied from studies made in the early thirties of birds and insects of the Celebes. Richard Miles, "The Prints of Paul Jacoulet', #46, pp53, 98-99.