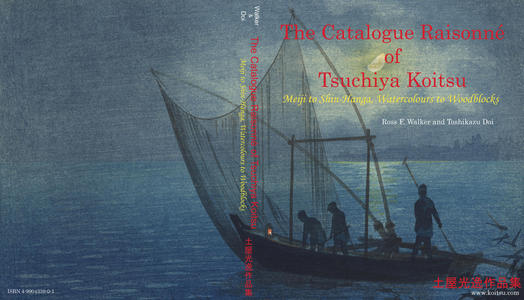 Artist: Tsuchiya Koitsu
Title: The Catalogue Raisonne of Tsuchiya Koitsu - 土屋光逸作品集
Date: 2008
Details & Prices: More information...
Source: Ohmi Gallery
Browse all 2,569 prints...
Description:
Not just a catalogue, but an important research text for any series shin-hanga collector! # Large 26 x 30cm (w x h) cloth hard cover volume. About 450 pages; # Dust jacket and cloth slip case; # Over 300 woodblock prints, watercolours and lithographs in full colour. Most prints are individually displayed on a full page. # Many previously unseen works of art (including lithographs, and double-oban Doi-published woodblock prints!); # Six separate publisher chapters, and many research and reference articles; # Comprehensive seals, signatures, and watermarks chapters; # Includes Japanese translation (全チャプターの邦訳も付いてます!) This baby is long overdue, and comes in at a whopping 4kg because we've aimed for a works of the highest quality, with embossed cloth slip case, embossed cloth covers, and premium-quality heavy-weight high-gloss pages. Because shipping costs will be a little expensive, we've decided to keep the sale price well below that of a book of equivalent quality and content. Note: quoted shipping cost is to Asia, the Pacific, the USA, and Central America. For shipping to Canada, Europe, and South America/South Africa, please order your catalogue here.