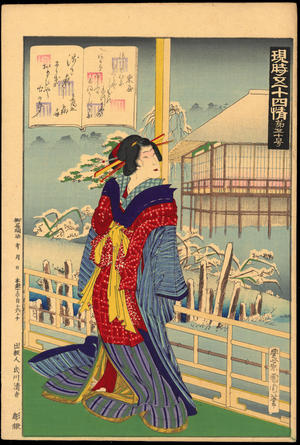 Artist: Toyohara Kunichika
Title: Chapter 50
Date: c. 1884 (this item: First/Early edition)
Details & Prices: More information...
Source: Ohmi Gallery
Browse all 2,569 prints...
Description:
This print is from one of the more popular oban series by Kunichika, also titled "Fifty-Four Modern Feelings (Matched with the Fifty-Four Chapters of Genji)". Published by Takegawa Seikichi, and carved by Asai Ginjiro in ca. 1884. Scenes from the Lady Murasaki Shikibu's 11th century novel, The Tale of Genji, have been illustrated many times in paintings, prints, lacquer ware and ceramics. Kunichika was not the first artist to publish a series of prints based on The Tale of Genji. In fact, his teacher Kunisada had produced many print series on the Prince Genji theme. Kunichika's title "Fifty-Four Modern Feelings" is actually a play on words: the pronunciation of the kanji characters for prince Genji from "The Tale of Genji", has the same pronunciation as the kanji characters for the word meaning "contemporary times" (genji). This item is from my personal collection and is not for sale.