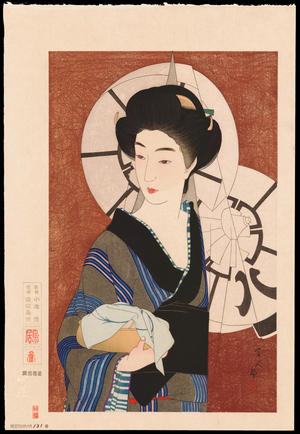 Artist: Torii Kotondo
Title: After the Bath - 湯かへ里
Date: 1929
Details & Prices: More information...
Source: Ohmi Gallery
Browse all 2,569 prints...
Description:
A rare strike containing the red "first edition" seal at the lower left corner and edition number of 131/750. This print has Kotondo's signature and seal within the image area; Printer and carver seals, red Torii artist's seal, red publisher's 'moneybag' seal (left margin); Watermark in lower left margin. Nearly double-oban in size. Limited edition of 750 prints from the posthumous first edition published circa 1980s. Carver: Koike. Printer: Watanabe. Includes original deluxe presentation folder. Long thin horizontal or vertical colour streaks in the image are due to the scanner.