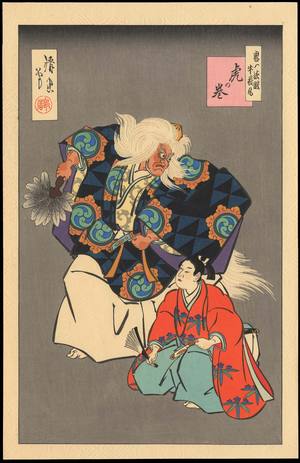 Artist: Torii Kotondo
Title: Kabuki Actor Print (1)
Date: 1950
Details & Prices: More information...
Source: Ohmi Gallery
Browse all 2,569 prints...
Description:
This print has Kotondo's "Kiyotada" signature and seal within the upper left cartouche. Kotondo called himself Torii Kiyotada V (The eighth-- not fifth -- Torii master) in 1958 (according to his daughter), after the death of his adoptive father Kiyotada IV (The seventh Torii master). Kotondo's kabuki actor series display his continued attention to detailed printing and production quality. (1) This item is either untitled or the title is unknown.