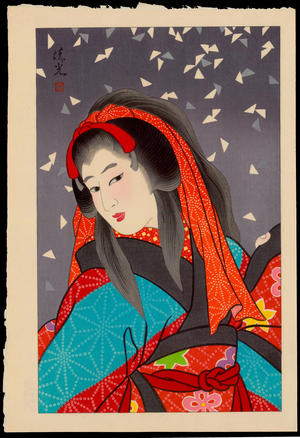 Artist: Torii Kiyomitsu
Title: Snow - 雪
Date: 1980
Details & Prices: More information...
Source: Ohmi Gallery
Browse all 2,569 prints...
Description:
Edition 32/300. Rarely seen in the market. Includes original album. Kiyomitsu is the 9th headmaster of renowned Torii school of Kabuki-e pictures. She is a daughter of Torii Kotondo and became the first woman headmaster of traditional kabuki-e schools in 1982. Her works were recognised by the Japanese government, which presented her with an "Oujihosho" (A type of Japanese medal of honour) in 2005. Note Edition number written in Japanese on the back. This item is from my personal collection and is not for sale.