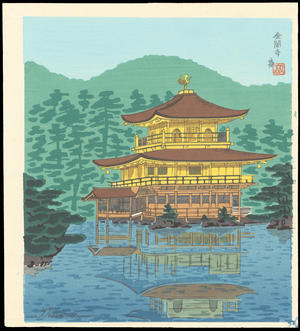 Artist: Tokuriki Tomikichiro
Title: Kinkakuji Temple - 金閣寺
Date: 1978
Details & Prices: More information...
Source: Ohmi Gallery
Browse all 2,569 prints...
Description:
This series was limited to only 100 sets. Although the edition number is not written directly on the print, this print is from edition number 49 as shown in the Table Of Contents image below. Titled, pencil-signed and sealed in the image area. The artist's biography (in Japanese) is shown in the bottom-most image below.