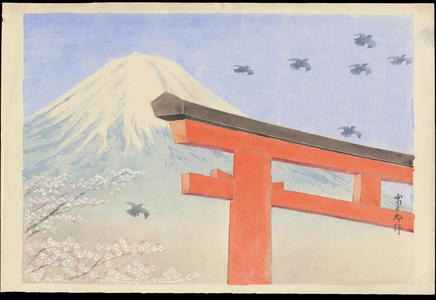 Artist: Tokuriki Tomikichiro
Title: Mt Fuji and Torii in Spring - 春の鳥居、富士山 (1)
Date: 1939
Details & Prices: More information...
Source: Ohmi Gallery
Browse all 2,569 prints...
Description:
This is a rare and obviously one-of-a-kind watercolour used as the 'shita-e' (preparatory drawing) for the woodblock print series "Thirty-Six Views of Mt Fuji". It would appear that this particular scene was not selected for inclusion in the final 36 scenes. In early 2010 I was fortunate to be able to acquire 32 Tokuriki watercolours. This print is untitled. Artist signature at lower right. The series was first published between 1939 and 1940. See the full series from the first edition here. (1) This item is either untitled or the title is unknown. This item is from my personal collection and is not for sale.