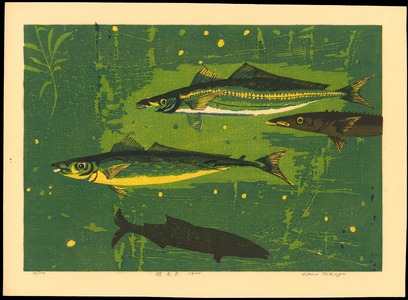 Artist: Takagi, Shiro
Title: Playing Fish B
Date: 1976
Details & Prices: More information...
Source: Ohmi Gallery
Browse all 2,569 prints...
Description:
Limited Edition 11/100. A modern woodblock print artist born in Japan in 1934. Takagi was a student at the Musashino College of Fine Arts. He also studied under the noted woodblock artist Amano Kunihiro. Takagi's print subjects vary from images of children to more subtle abstract landscapes and nature subjects. He also published many prints from the woodblocks of the artist Tamami Shima.