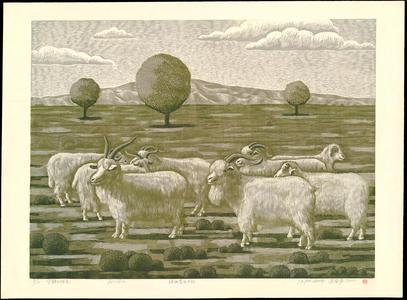 Artist: Su Yansheng
Title: Equable Green
Date: 2001
Details & Prices: More information...
Source: Ohmi Gallery
Browse all 2,569 prints...
Description:
Limited edtion reduction woodblock print 5/10. This print showing strolling sheep on a vast prairie land under a wild sky and clouds is a typical scene from the North of China. The artist said that he had a Chinese poem from the Northern Dynasty (386-581) in his mind when he created this composition: "The sky is so blue and the grassland so vast. Herds of cattle and sheep submerge in a sea of luxuriant grass and can only be seen when the grass bends as the wind blows." This item is from my personal collection and is not for sale.