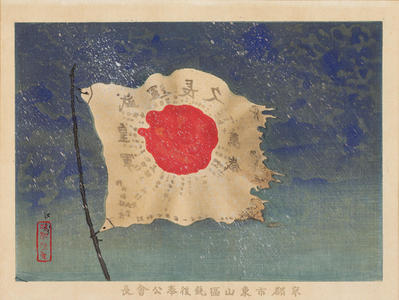 Artist: Shusei
Title: Loyalty Picture - 畫忠
Date: 1941
Details & Prices: More information...
Source: Ohmi Gallery
Browse all 2,569 prints...
Description:
Very rare. Still mounted to its original folder. This print was published in order to enhance national prestige, specially when soldiers were sent to the front lines. This print was commissioned by the head of Higashiyama Ward in Kyoto (東山區長), as a member of the Domestic Support Service Organization (銃後奉公会会長). The artist signature and seal are difficult to read and the best my Japanese colleagues can suggest is Shusei (秋聲, 秋聲〇作). This item is from my personal collection and is not for sale.