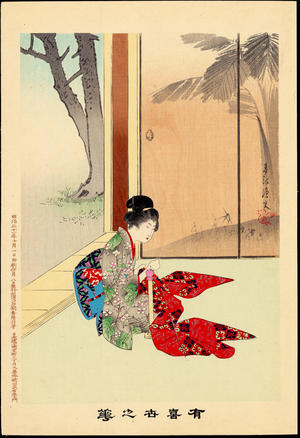 Artist: Miyagawa Shuntei
Title: Sewing (1)
Date: 1898
Details & Prices: More information...
Source: Ohmi Gallery
Browse all 2,569 prints...
Description:
Seal: unread. The unusual kanji characters in the title "有喜吉之華" is a kanji word-play whose pronounciation is the same as the intended title "浮世の花" (Ukiyo no Hana) meaning "Flowers of the Floating World". Signed 春汀漁史 (Shuntei Gyoshi). (1) This item is either untitled or the title is unknown. This item is from my personal collection and is not for sale.