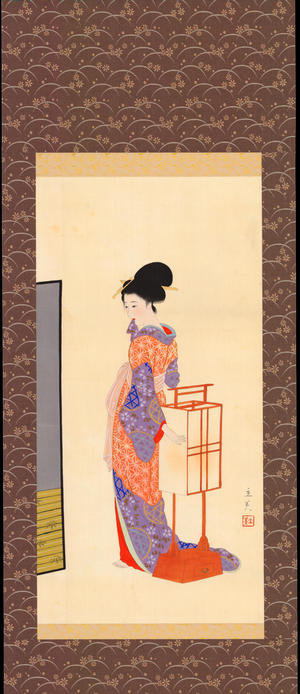 Artist: Tatsumi, Shimura
Title: Lantern - 行燈
Date: 1940
Details & Prices: More information...
Source: Ohmi Gallery
Browse all 2,569 prints...
Description:
A very rare example of Tatsumi's early work. Due to the scroll shows some ageing (soiling to the painted area and flaking of the white pigment) and along with the style of the bijin's face, a dating to around the late 1940s or early 1950s is suggested, before Tatsumi settled on his trademark bijin face as seen in his later circa 1960s double-oban woodblock print works (note his 1953 series also exhibited a lot of variability in the compositions of the five bijin's faces). Includes Tatsumi's original titled, signed, and sealed scroll box. Hand painted roller ends. Painted area is 41 x 81cm.