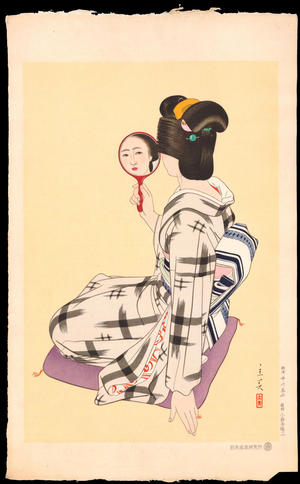 Artist: Tatsumi, Shimura
Title: Marumage - Natsu (Reflection in a Mirror) - 丸髷 (夏)
Date: 1953
Details & Prices: More information...
Source: Ohmi Gallery
Browse all 2,569 prints...
Description:
Red Tatsumi seal and characters in lower right of image. Nakagawa carver's seal and Ono printer's seal in right margin. Title embossed in bottom margin. Nihon Hanga Kenkyusho seal also in bottom margin. Compare with same print on page 183 of the book "The Female Image, 20th Century Prints of Japanese Beauties".