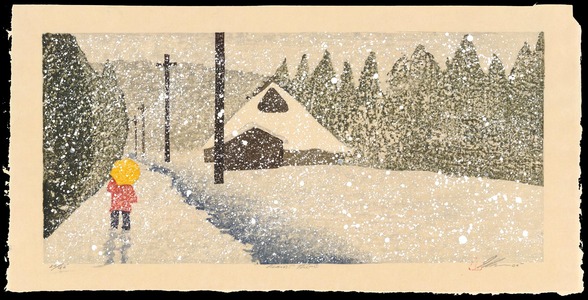 Artist: Rome, Joshua
Title: Almost There
Date: 2005
Details & Prices: More information...
Source: Ohmi Gallery
Browse all 2,569 prints...
Description:
Edition 20/95. Printed in fine washi paper. "Gofun" (white pigment) sprinkled for the snow effect. I usually don¥'t acquire Japanese woodblock prints by foreign artists, but this print is especially captivating and one of the best works by Joshua Rome. "Almost There". The Northern and North-western parts of Japan are known for snowy and severe winter conditions. Joshua Rome is especially good in snow scenes. This recent design from 2005 is among his best works. The lone person of whom only the backside and a huge umbrella are shown reminds of some of Hasui Kawase's winter scenes. Although the styles are very different, both artists show great mastership of creating moods with simple designs of a lonely human being exposed to the forces of nature. Width Item 24.8 inches = 63.0 cm Height Item 12.4 inches = 31.5 cm Width Image 21.7 inches = 55.0 cm Height Image 10.0 inches = 25.5 cm This item is from my personal collection and is not for sale.