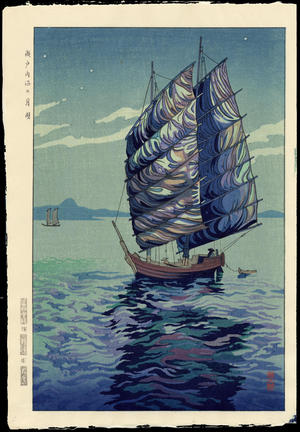 Artist: Okazaki Shintaro
Title: Seto Inland Sea in Moonlight
Date: c. 1953 (this item: 1970s/80s)
Details & Prices: More information...
Source: Ohmi Gallery
Browse all 2,569 prints...
Description:
A rarely seen print. This print is sometimes attributed to Shiro Kasamatsu, and in fact examples of this print exist containing Kasamatsu's seal. Okazaki showed and sold his prints extensively in Japan, so he is not well-known outside Japan. This is a "mid edition" printed by Shinmi and carved by Okura, not one of the more recent editions. Artist seal "Shintaro" at lower right, with Unsodo "gei" watermark in the lower left margin corner.