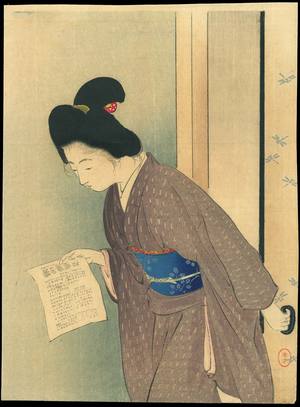 Artist: Mizuno Toshikata
Title: Newspaper (1)
Date: 1900
Details & Prices: More information...
Source: Ohmi Gallery
Browse all 2,569 prints...
Description:
This print comes directly from the original publisher's overrun stock - preserved in a 'kura' storehouse in Tokyo for the last 100 years. It was not mounted in a magazine, so there are no binding holes and absolutely no trimming (very rare). Artist's seal lower right. Kuchi-e prints were foldout prints placed at the front of Japanese literary magazines in the 1890s to about 1910. This edition dates to that period. See the article "Kuchi-e - Literary Magazine Frontispieces " at Ukiyo-e Gallery for a very informative introduction these wonderful bijin-ga prints. (1) This item is either untitled or the title is unknown.