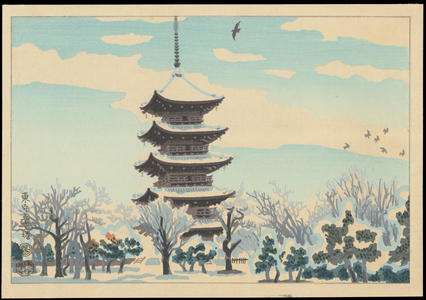 Artist: Kotozuka Eiichi
Title: Toji Tempe Five-Storey Pagoda - 東寺五重塔
Date: 1930
Details & Prices: More information...
Source: Ohmi Gallery
Browse all 2,569 prints...
Description:
Scenes from this series are very rare. Title, artist's signature and seal, and Uchida publisher's seal in the image area. The eight scenes were published in a thick paper wrapper (see images below) that contains the "Uchida Bijutsu Shoshi" seal, indicating a publishing date in the 1930s or 40s (the large Uchida seal suggests the later dating). This item is from my personal collection and is not for sale.