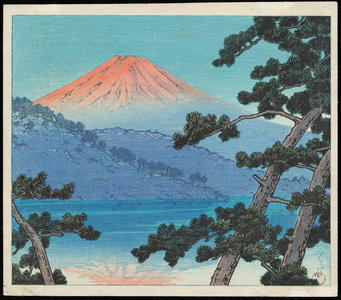 Artist: Kawase Hasui
Title: Dawn over Lake Shoji
Date: 1935
Details & Prices: More information...
Source: Ohmi Gallery
Browse all 2,569 prints...
Description:
Very rare. First and only edition. The Hasui catalogue suggests that 20,000 copies of this calendar print were printed, along with 10,000 of the more commonly seen 1935 Miyajima calendar scene. I in no way believe 20,000 copies were made of this Fuji scene, although 10,000 Miyajima is possibly true. My view is based on my research database statistics. The number of times a print is represented in my database is approximately proportional to the number of prints of that scene published. I have the Miyajima scene represented in my database many times, but I don't have a single copy of the Fuji scene (until now), despite ten years of cataloguing prints. If 20,000 had actually been printed we would have seen this scene even more often than the Miyajima scene, which we can see multiple times during any single year. Admittedly, being a calendar print, many would have been discarded, but not to the extent that this print became this rare, and besides, the Miyajima print was also a calendar print in a smaller edition size, yet it is quite common. I'm guessing 200 or less of this Fuji scene were actually printed (a single run). Well, that's my take in the situation. This is definitely a rare Hasui print.