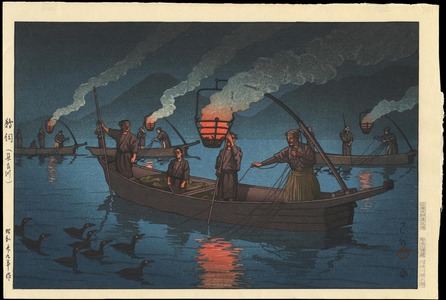 Artist: Kawase Hasui
Title: Cormorant Fishing (Nagaragawa)
Date: 1954
Details & Prices: More information...
Source: Ohmi Gallery
Browse all 2,569 prints...
Description:
Fishermen have been using cormorants for fishing on the Nagara River since the 7th Century. The cormorants swallow small fish, which are attracted by the torch fire. A rope attached to a collar on the cormorant's neck prevents the fish from going further down into the cormorant's neck. Later, the fishermen make the birds regurgitate the captured fish. This impression was printed in 1979 as a special commemorative edition for the first comprehensive Hasui catalogue by Narazaki, published by Watanabe for Mainichi Newspaper. Watanabe 7mm round seal in the lower right-hand corner. Carver Hirakawa Seizo, Printer Horikawa Shozaburo (seals in right-hand margin). Rectangular Watanabe seal in the right margin, which looks very similar to a Watanabe "F" seal, and was used for some prints made in the late 1970s. Seal indicating "Published by Mainichi Newspaper, limited edition 265/350" in Japanese on the reverse side (see image below).