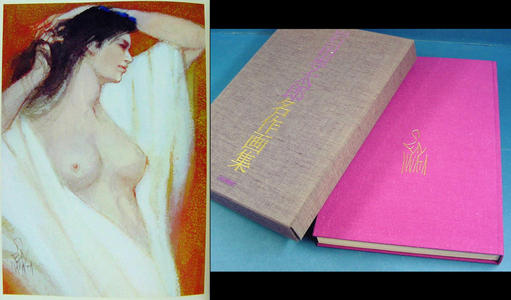 Artist: Iwata, Sentaro
Title: Iwata Sentaro Famous Works Collection - 岩田専太郎名作画集
Date: 1974
Details & Prices: More information...
Source: Ohmi Gallery
Browse all 2,569 prints...
Description:
You won't find a better Iwata Sentaro catalog raisonne than this one. Large oban size with 346 works including around 130 in full colour (most are full-page), and includes many of Iwata's sketches. Includes its original cloth slipcase. Retailed for 30,000 yen (around US$120) in 1974. Weighs a couple of kilograms, with a total of around 275 pages, in Japanese. Note: the quoted shipping is for SAL (surface air lift - economy airmail), not express shipping. Because of the heavy weight of this catalog, Express shipping would cost around $60. (*) SAL Economy Air shipping does not provide insurance or tracking.