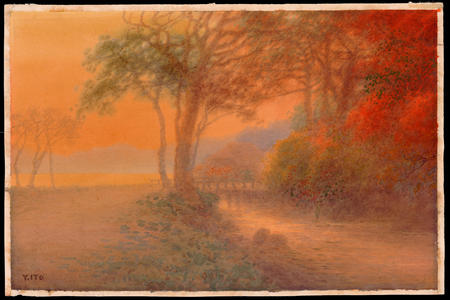 Artist: Ito, Yuhan
Title: Countryside in Sunlit Haze (1)
Date: 1930
Details & Prices: More information...
Source: Ohmi Gallery
Browse all 2,569 prints...
Description:
Watercolour on wove paper Trees along the banks of a stream, a small bridge in middle distance and a thatched-roof structure beyond, painted in Ito's typical manner with soft, impressionistic, pastel-like colours, the forms mostly without outline and the image depicted in a sunlit haze or mist; Paper Size: 513 x 341mm (13-7/16 x 20-3/16"). Signed "Y. Ito" in lower left corner of image; paper label on reverse is partly trimmed but reads [brackets = trimmed]: [H. T]akemura & Co., [45] Bentendori, [Yoko]hama, Japan (1) This item is either untitled or the title is unknown. This item is from my personal collection and is not for sale.