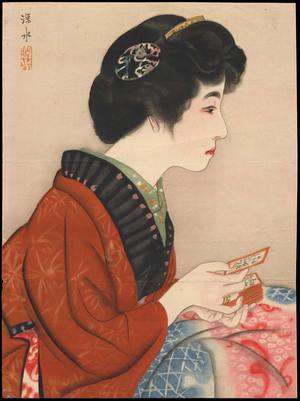 Artist: Ito Shinsui
Title: Bijin Playing Karuta (1)
Date: 1920
Details & Prices: More information...
Source: Ohmi Gallery
Browse all 2,569 prints...
Description:
Rare pre-war machine printing (possibly a lithograph) of a gorgeous 'bijin' (beauty) by Ito Shinsui. Rarely seen in the market. Artist signature and seal within the image area at right. This print would have been printed as a supplement (kuchi-e) to one of the pre-war women's magazines like "Shufu no Tomo" (Housewife's Friend). (1) This item is either untitled or the title is unknown.