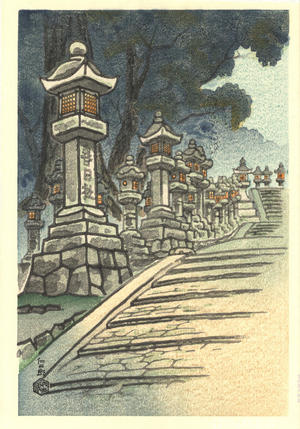 Artist: Ito, Nisaburo
Title: Lanterns on the Steps of Kasuga Jinja (Kyoto) - 春日神社 (1)
Date: 1950
Details & Prices: More information...
Source: Ohmi Gallery
Browse all 2,569 prints...
Description:
Lanterns on the Steps of Kasuga Jinja Temple in Kyoto by Ito Nisaburo. Genuine Japanese woodblock print. Oban size print measures 17.4 x 11.8 inches. Nisaburo characters and Uchida publisher's seal in lower left of image. Uchida seal in right margin. Uchida watermark in bottom margin. (1) This item is either untitled or the title is unknown.