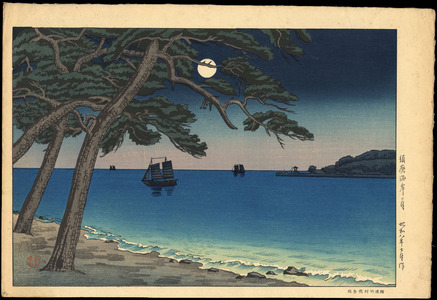 Artist: Tsuchiya Koitsu
Title: The Moon from Suma Beach - 須磨海岸の月
Date: 1933
Details & Prices: More information...
Source: Ohmi Gallery
Browse all 2,569 prints...
Description: Very rare print indeed. The red artist seal at the lower left reads KOU "江", the first character of Ishiwata's pseudonym 江逸 (Koitsu). The 1933 dating of this print fits in well with Ishiwata's career timeline, having worked for Watanabe until 1932, and for Kato Junji from 1936/7. Print style and handwriting style of the dating text are both similar to those of Ishiwata Koitsu. This item is from my personal collection and is not for sale.