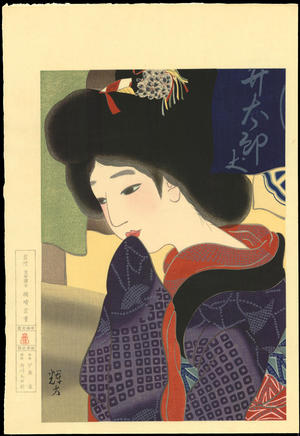 Artist: Ikeda, Terukata
Title: Noren (Beauty Under a Curtain) - のれん
Date: 1920
Details & Prices: More information...
Source: Ohmi Gallery
Browse all 2,569 prints...
Description:
Noren, by Ikeda Terukata. Genuine woodblock print. Large size measures 18.9 x 13.0 inches. Later Showa era impression with Narazaki supervisor's seal, Ito Susumu carver's seal and Uchikawa printer's seal in left margin. Highly detailed carving. This series was a limited edition printing of only 100 prints. Note: the artist Ikeda Shoen also published a similar scene.