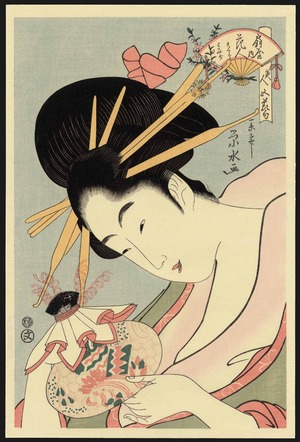 Artist: Ichirakutei Eisui
Title: The courtesan Hanahito from the Ogi-ya
Date: 1798
Details & Prices: More information...
Source: Ohmi Gallery
Browse all 2,569 prints...
Description:
Ichirakutei Eisui (active 1789-1823). This is a bust portrait of the courtesan Hanahito of the Ogi-ya. The Doll Festival from a set of the Five Seasonal Festivals published by Maru-ya Bun'emon, c.1798. You can find the British Museum's impression of this print illustrated in the reference text "Ukiyo-e Masterpieces in European Collections" as print number 205. This type of print shows a woman of the pleasure quarters. The Edo period red-light districts were officially sanctioned, however, they weren't the playground for just anyone. The popular top-class geishas of the day (known as Oiran) were depicted in this type of print. In ukiyo-e woodblock prints, this close-up portrait view of the upper body is known as an okubi-e (bust portrait). Publisher seals on verso. Printer: Maeda; Carver: Tanaka.