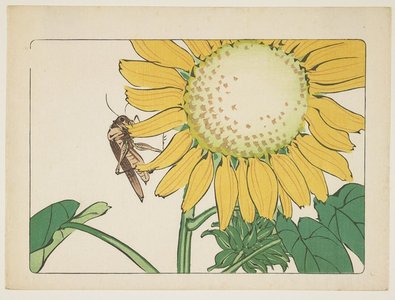 Artist: Shibata Zeshin
Title: (Grasshopper and sunflower)
Date: c. 1877
Details: More information...
Source: Minneapolis Institute of Arts
Browse all 2,121 prints...
Description:
The artist Shibata Zeshin adroitly captures nature's vitality by depicting a close-up view of a robust sunflower. His characteristically bold brush strokes contribute to the liveliness of this flower, long an emblem of summer. A finely rendered grasshopper appears to have just hopped onto a flower petal. Although Zeshin did not include the sun itself, one can almost feel the blistering heat of the season.