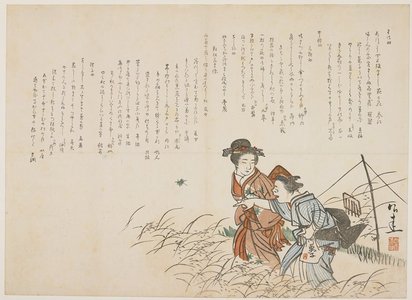 Artist: Tsuruya Kokei
Title: (Outing in the Autumn Filed)
Date: c. 1830-1844
Details: More information...
Source: Minneapolis Institute of Arts
Browse all 2,121 prints...
Description:
This print illustrates a young woman in an orange kimono on an outing, accompanied by her attendant who wears a simple striped kimono. The artist included many visual hints about the season. Rectangular wooden pieces called naruko hang from strings attached to bamboo poles. The wind causes them to rattle together, helping frighten the birds away while the rice is being harvested. The cricket that the attendant points toward, as well as the maple leaf pattern that adorns her mistress's kimono, are both associated with the autumn season. The white bag in the attendant's left hand is emblazoned with the characters okashi (confectionary) suggesting that they are about to have a picnic in the field.