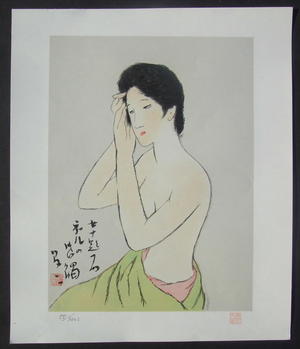 Artist: Takehisa Yumeji
Title: Sprucing Up — Neru no Kanshoku
Date: Not set
Details: More information...
Source: Japanese Art Open Database
Browse all 17,130 prints...
Description:
Saturday, 30 December 2006 "Neru no Kanshoku " ("The touch of flannel ") by Yumeji Takehisa(1884 - 1934). This print is modern lithograph print ( Please note ! This is not woodblock print) . Pristine condition, Hand numbered, limited edition number 55/300S . Red seal "Geijutsu no Taiga" and embossed seal " Geijutsu no Taiga" on bottom margin.Width is 14 and 1/2 inches and height is 17 and 1/2 inches. Extremely tiny ink deep into left margin which is typical these prints. Top and bottom of back side was taped. Please see in pictures. Genuine beautiful Japanese lithograph print . Yumeji Takehisa(1884‾1934) is very famous and popular in Japan as Bijin-ga artist of the Taisho period (1912-1926). His preferred subjects of the artist were beautiful women . The woman whom he draws is unique. He was born 1884 in Okayama, Japan.