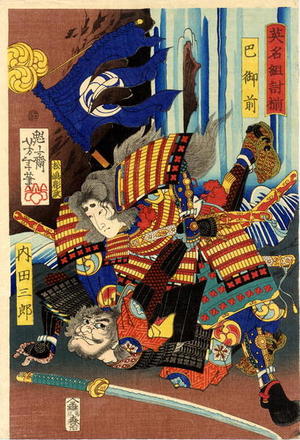 Artist: Tsukioka Yoshitoshi
Title: Tomoe Gozen- female warrior
Date: 1865
Details: More information...
Source: Japanese Art Open Database
Browse all 17,130 prints...
Description:
Saturday, 18 June 2005 Famous Fights Between Brave Warriors: #1 Artist: Yoshitoshi Format: Oban tate-e: 14.75" x10" approx Subject: Eimei Kumiuchi Zoroi. We are auctioning the complete set of these fine designs, as listed in Stevenson; 'Beauty and Violence' series 14, #s 1 to 8, plus two apparently previously unknown designs from this superb early set. Any assistance with the identification of the warriors in #9 and 10 would be gratefully received. This first design shows Tomoe Gozen, female warrior, wife and loyal supporter of the rebel Kiso no Yoshinaka, (d. 1184), here subduing Uchida Saburo, with her bare hands in front of a waterfall. A rare series. Publisher: Moriya Jihei (Moriji) Date: 11th month 1865 Condition: Full size with margins. Very minor marks creases and flaws. Generally fine state of preservation. Colour: Fine Impression: Fine early impression with gauffrage and strong woodgrain visible in the background.