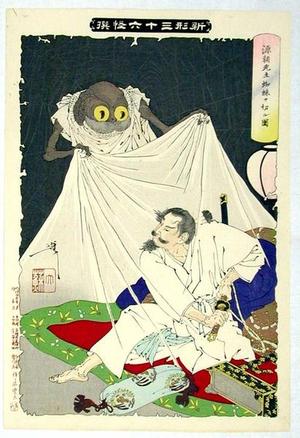 Artist: Tsukioka Yoshitoshi
Title: Minamoto No Yorimitsu Striking at the Ground Spider
Date: 1892
Details: More information...
Source: Japanese Art Open Database
Browse all 17,130 prints...
Description:
YOSHITOSHI Title: Minamoto No Yorimitsu Striking at the Ground Spider Print Type: Original Japanese Woodblock Print Series Title: Thirty Six Ghosts Edition #: First Edition Date: 1892 Size: 14 1/2 x 9 3/4 inches (paper) Condition: Superb impression, color and state..