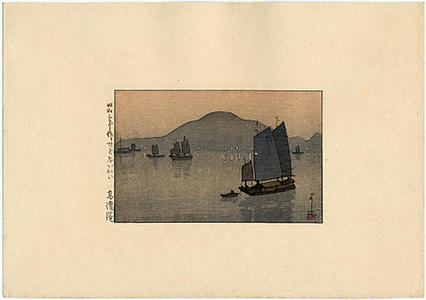 Artist: Yoshida Hiroshi
Title: Takahama Port on the Inland Sea — せとないかい 高濱港
Date: 1928
Details: More information...
Source: Japanese Art Open Database
Browse all 17,130 prints...
Description:
Artist Hiroshi Yoshida Title Takahama Port on the Inland Sea Medium Original Woodblock Print Series Title Edition First, and only Date 1928 Publisher Reference No Abe #109 Size 3-1/8 x 5 " (image); 7 x 10" (paper) Notes: Signature and artist's stamp in lower right corner of print. Yoshida notes that 7 blocks were used with a total of 17 impressions. Prints from this miniature series are scarce in fine condition. Provenance: The Hiroshi Yoshida Family Collection.