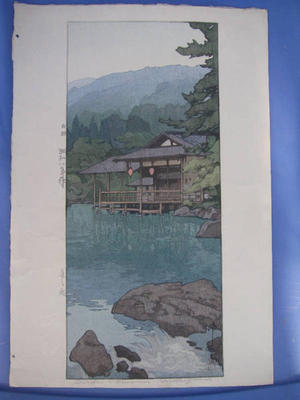 Artist: Yoshida Hiroshi
Title: A Garden in Summer
Date: 1933
Details: More information...
Source: Japanese Art Open Database
Browse all 17,130 prints...
Description:
Monday, 30 August 2010 Offered at auction, Hiroshi Yoshida woodblock print "Garden in Summer", jizuri seal, 10.75 by 15.75 inches overall dimensions. Both the print name and signature are in pencil. Condition is as shown, no tears or folds. Two hanging/mounting holes are visible on the left side, and there are 1 to 3 tiny holes smaller than a straight pin in each corner. There is no tape or any residue on the print. For inspection I have included one photo taken in full slanted sunlight on a bright white background, which accentuates the existing small wrinkles in the paper and shows the overall tone of the print. There is an embossed seal in the lower left as shown.