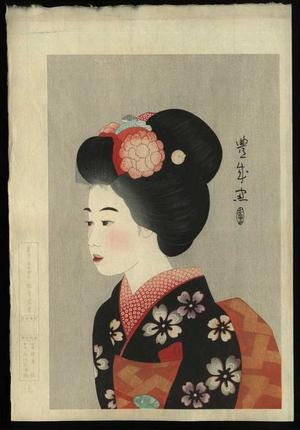 Artist: Yamamura Koka
Title: Maiko
Date: 1924
Details: More information...
Source: Japanese Art Open Database
Browse all 17,130 prints...
Description:
Maiko by Yamamura Koka (Toyonari). Genuine woodblock print. Later Showa era impression. Very good condition. Fine color and impression. 19.2 x 13.0 inches. Narazaki publisher's seal, Ito carver's seal, Uchigawa printer's seal and watermark in left margin. Strong ink bleedthrough. Nice use of silver mica in background and gold mica on kimono. Compare to same image on page 90 "The Female Image 20th Century prints of Japanese Beauties".