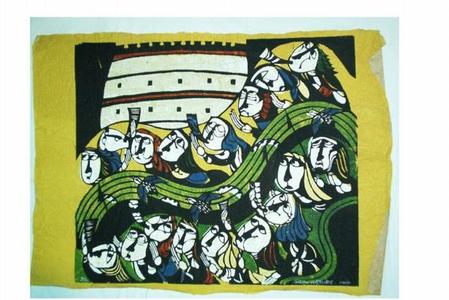 Artist: Watanabe Sadao
Title: Walls of Jericho
Date: Not set
Details: More information...
Source: Japanese Art Open Database
Browse all 17,130 prints...
Description:
The auction is for a Japanese Woodblock Print, "Walls of Jericho" by the well-known Sado Watanabe. S/N: Signed, numbered, limited edition: Signed in white ink, on rough rice paper. 7/50 History: This print was purchased from a gallery by a fine arts appraiser and collector in the 1960's in Japan. Still in business after 30 years, but considering retirement, he has decided to part with some of the pieces in his large collection. I am assisting by listing for him. Condition: The print has been conserved in a climate-controlled, clean environment. No exposure to sunlight. There is some curling and creasing in the border of the paper's edges, but this is outside of the print itself. (For more photos, please ask) Suitable for framing. Good condition.