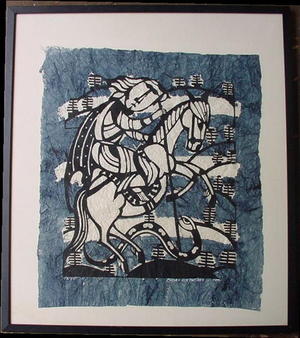 Artist: Watanabe Sadao
Title: Saint George and the Dragon
Date: 1971
Details: More information...
Source: Japanese Art Open Database
Browse all 17,130 prints...
Description:
The religious theme and somewhat attenuated figures with medieval overtones of this color woodcut on hand made paper portraying a figure on horseback spearing a serpent is typical of the work of Japanese artist Sadao Watanabe (1913-1996). This work is known as "Saint George and the Dragon", signed and dated Sadao Watanabe 1971 lower right and numbered 51/70 lower left, measuring 22 x 26 inches (and 28 x 32 inches overall), unexamined out of frame, this work is on hand made paper and is in excellent condition. It is not laid down. It is nicely framed and ready to hang. It is in remarkably good condition since it came from a smoke-free environment in a hospital chapel without direct sunlight. Watanabe studied the art of stencil printing or "katazome" and later studied under Soetsu Yanagi and Keisuke Serizawa. He exhibited widely at such locations as the Folk Art Museum in Japan and the Portland Art Museum, where he received a one-man exhibition. His works are in the collections of the Museum of Modern Art, the Art Institute of Chicago and the Vatican Museum of Modern Religious Art, among others.