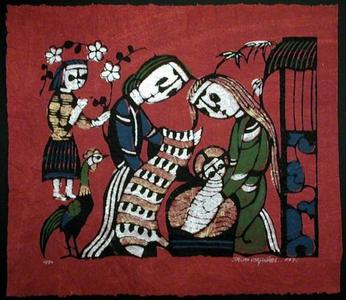 Artist: Watanabe Sadao
Title: Nativity Scene
Date: 1971
Details: More information...
Source: Japanese Art Open Database
Browse all 17,130 prints...
Description:
This is a genuine original sosaku hanga stencil print (not a woodblock print) by Sadao Watanabe (1913-1996). The print is dated 1971, signed in white ink by the artist, and edition is 4/70. A very powerful image. The print is in very good condition. Excellent color and registration. No foxing, toning, folds or creases. The print is not trimmed or setdown. There is one repair to the verso of the print where a small patch of japanese paper was pasted to reinforce a tear in the print. The repair is visible on the image if you look for it carefully, otherwise it is difficult to see. It is a very minor flaw, and given the texture of the handmade/crinkled paper nearly invisible.